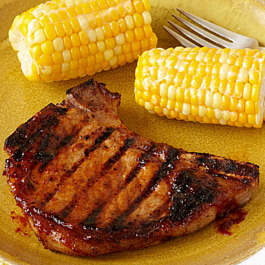 Courtesy of Kraft Kitchens
Servings: 4
Prep Time: 15 Min.
Cook Time: 10 Min.
Marinate: 1 Hr.
* 2 c. water
* 2 Tbsp. plus 2 tsp. sugar, divided
* 2 Tbsp. kosher salt
* 4 bone-in pork chops (1-1/2 lb.), 1/2-in. thick
* 1 Tbsp. paprika
* 2 tsp. onion powder
* 1/2 tsp. ground black pepper
* 1/2 c. KRAFT Original or Thick & Spicy Barbecue Sauce
1. Mix water, 2 Tbsp. sugar and salt until sugar and salt are dissolved. Pour over chops in resealable plastic bag. Seal bag; turn to evenly coat chops with brine. Refrigerate 1 hour. Meanwhile, mix remaining sugar and seasonings.
2. Heat grill to medium-high heat. Remove chops from brine; discard bag and brine. Coat chops evenly with seasoning mixture.
3. Grill 5 to 6 min. on each side or until done (145ºF), brushing with barbecue sauce for the last few minutes. Remove from grill. Let stand 3 min.